Whatsapp, world's fastest growing messaging app has introduced Voice texting in next update which will take place on all operating systems of smartphones (iOS, Android, Blackberry, Windows Phone and Nokia Asha) in just 24 hours.
Availability for this feature by company was announced while it showed it's 300 million monthly active users mark. In previous 2 months, there has been 50 million new active users - the company revealed.
This new feature is well and better known as Voice texting allowing you to send Voice texts by just pressing the mic button to record it and then say your message.
Simple and Easy
Better side of this feature is that there's no time length limit for your messages, as long as you let it record your message it records it then when you press mic button again to stop recording it sends the message to the user you are communicating with. If you don't wanna send the recorded message just swipe it to left and it'll delete your recorded message. The mic turns blue once your recipient completes listening to your message.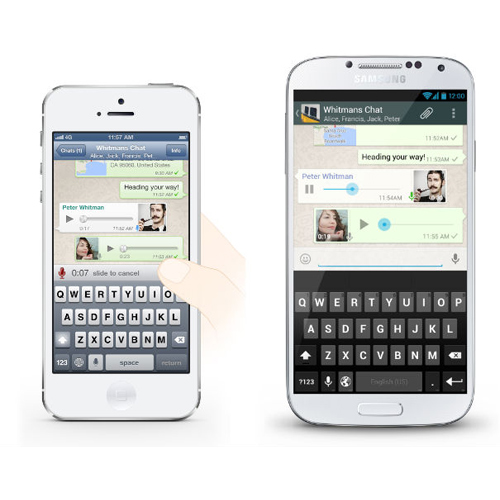 Another interesting feature which comes with the update is that the playback of a voice text will automatically switch from handset's speakers to it's earpiece when you hold the device near your ear.
Let Us know What you think about this below in comments section !!
Please Don't forget to Like us on
Facebook
, Follow us On
Twitter
and Subscribe us on
Youtube
for Latest
Technology News
, Reviews,
Updates etc.,
and download our Website Android application to be updated about latest technology news.