According to a twitter user
Hamza Sood
, iOS7 beta 4 which was seeded to developers on Monday includes a folder named as " BiometricKitUI " which contains accessibility section of the OS text strings related to VoiceOver tutorial with instructions on using fingerprint sensor for iPhone.
The text string mentions the following :
"

Photo of a person holding an iPhone with their left hand while touching the Home button with their thumb

Photo of a person holding an iPhone with their right hand while touching the Home button with their thumb

A fingerprint that changes colour during the setup process.

Recognition is %@ complete
The Strings indicate that the fingerprint sensor to be placed on Home button and it's likely to be deployed for unlocking Mechanism of the iPhone.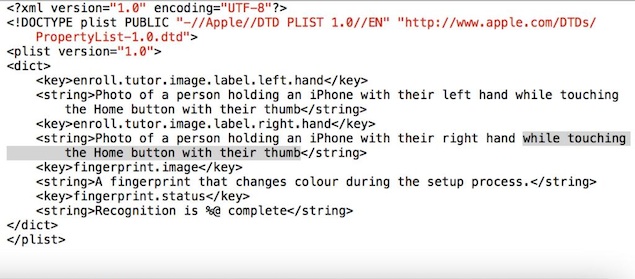 There has been some previous reports which suggests that Apple had selected Taiwanese Chip maker 'Chipbond' for sourcing a number of components for iPhone 5S which includes touch display driver,
hardware to support fingerprint sensor
and near field communications (NFC).
Meanwhile on the other side, iOS 7 beta 4 brings sever changes for performance, usability and cosmetic changes. It also fixed the Slide to unlock arrow position in lock screen, new buttons to the dialer and call answer screens, a cancel search option universal search (spotlight) interface, ability to swipe between different sections in Notifications center, visual tweaks in safari and Mali apps, tweaked filters UI and HDR button in camera application, new Airplay icons, improved transparency and animations in folder.
Usability wise, the new beta supports unlimited apps in the multitasking view, faster Compass calibration, new sound alert for AirDrop, Siri Q&A feature, new resolution switch in the iPad while running iPhone apps, ability to shuffle all songs in the Music app, and search functionality in Reminders app, amongst other changes.
Let Us know What you think about this below in comments section !!
Please Don't forget to Like us on
Facebook
, Follow us On
Twitter
and Subscribe us on
Youtube
for Latest
Technology News
, Reviews,
Updates etc.,
and download our Website Android application to be updated about latest technology news.