Report from gsmarena suggests that Samsung Galaxy I9600 benchmark was spotted on AnTuTu with Android version 4.3.2 running.
According to gsmarena, this device could be the successor of Galaxy S4 as it's running Android 4.3.2 which is not out yet with processor clocked at 1.4 Ghz. As it's very early for Samsung Galaxy S5 to come, this device may be a Galaxy S4 Plus.
However, there has been Plus devices of Galaxy series, such as the Galaxy S I9001 Plus and Galaxy S II Plus I9015. Both devices sported model numbers, which differs from the original flagships by their last digit.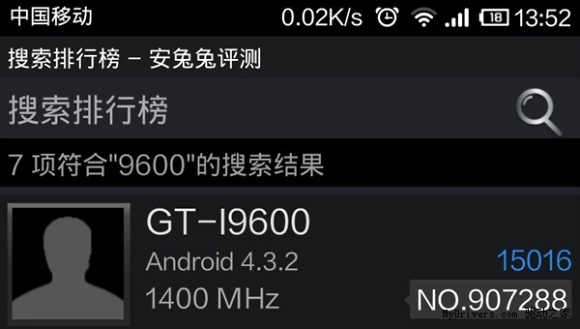 As the picture below shows a low score which is below Galaxy S4 or SIII achieved in AnTuTu benchmark. So the point is that this device could be a mid-range one but it looks unlikely with that kind of Model number
so it's either down to the early firmware or the record is not genuine or true altogether.
Another suspicious fact is that Android 4.3 isn't out yet so the listed version 4.3.2 instead of 4.3.1 is rather hard to explain.
[via]
Let Us know What you think about this below in comments section !!
Please Don't forget to Like us on Facebook, Follow us On Twitter and Subscribe us on Youtube for Latest Technology News, Reviews, Updates etc.,