Remember the April fool which Google made about launching blue Gmail ??
Well, Google is actually not launching a Blue Gmail but they are going to give Gmail a all new refreshing design. In addition to the update, Google is going to add some functionalities and change a bit of Gmail layout.
The new design will help users to organize their mails better which comes with new interface and tabs. Google has already rolled out the priority inbox as addition to the standard inbox last year. However, the new design and layout will distinguish between your priority mail and regular forwards.
(
Photo : logostage.com
)
As you can see below the new layout will sort out mails under 5 default tabs which are named as - Primary, Social, promotions, Updates and Forums. As the regular mails will be stored in your Primary tab, mails from Social networking websites will be stored in Social tab, mails from e-commerce site will be stored in promotions tab and at last Forums tab is for mailing lists and updates for confirmation mails.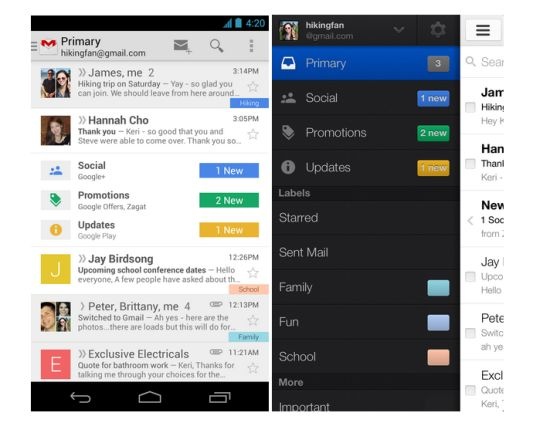 (
Photo : indiatimes.com
)
The other features include dragging and dropping of mails between different tabs and Google blogs said that Google will slowly 'learn' where you want each mail to go. Each tabs available to you will act as different inbox and store the mails according to their category and you can view unread messages, keep track of mails, respond etc., to them.
This update will be launched for not only desktop platform but for all other platforms too, such as Smartphones.
While updates have already begun rolling out to desktop, the Android and iOS versions will be available in a few weeks.
On the other side, Google will not be forcing it's users to switch their layout style of Gmail but it depends on you if you want to switch to new layout for not. Don't worry the new layout will always be there for you to switch.
According to Google's Blog Post: Sometimes it feels like our inboxes are controlling us, rather than the other way around. But it doesn't have to be that way. Today, Gmail is getting a brand new inbox on desktop and mobile that puts you back in control using simple, easy organization.
Will you switch to it when it launches ??
Let Us know What you think about this below in comments section !!
Don't forget to Like us on Facebook, Follow us On Twitter and Subscribe us on Youtube for Latest Technology News, Reviews, Updates etc.,